'Disabled' Dating Sites*
Along with Disabled Passions (the site you are on now), the sites listed below all focus on connecting singles with disabilities with others who are also disabled or who are interested in dating disabled singles. The sites listed below range from those focused on Disabled Dating to others focused on Disability Chat. The primary goal is to connect people though. Each site, regardless of the company running it, shares many of the same characteristics as many of the other sites. So, if you are looking for a great dating site focused on Disabled singles, then there are MANY here to choose from, so look through the ones below to find the one that seems like the best fit for you.

Disabled Dating Connexion
Connect With Other Disabled Singles
Regardless of your disability, Disabled Dating Connexion has been designed to connect you with disability personals set up by singles just like you. Whether you are looking for romance, dating, love or just companionship, this site could be perfect for you. Join for free to see what you think.


AD

Disabled Online Personals
Meet Like Minded Singles Who Are Part Of The Disabled Community!
Disabled Online Personals helps members find someone they really connect with by browsing singles in their area or in different cities.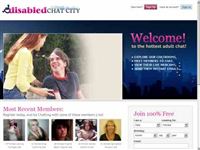 Disabled Chat City
Make New Friends Every Day at Disabled Chat City
Are you disabled and looking to meet people online? Then check out Disabled Chat City now and start meeting some of the funniest and loveliest individuals online!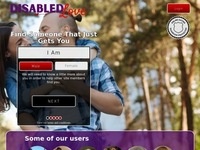 Disabled Love
"Find Someone That Just Gets You"
"Disabled singles choose to date here because all members go through verification checks. Have fun with someone that just gets you!"

Christian Disabled Dating
"Meet Disabled Christian Singles Today"
"Being Disabled Doesn't Mean You Have to Give up on Love." Start Meeting Other Disabled Christian Singles in Your Local Area on Christian Disabled Dating.

Disabled Dating Agency
With Disabled Dating Agency miracles can become real
A website dedicated to finding single disabled men and women and making a romance come to life! Join now and come meet disabled men and women from all over the country!
AD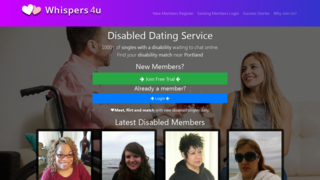 Whispers 4 U
Find Disabled Singles Online!
Whispers 4 U is a dating site built specifically for the disabled community and it has been around for quite some time. As you can see on this page, there are a large number of sites focused on connecting disabled singles, but of all of them, Whispers 4 U is definitely worth a look. Many of the sites have different features so check it out to see if this might be the site for you!

Meet Disabled Singles
Meet Disabled Singles who are Fun, Caring AND Read To Find Love!
Being disabled shouldn't stop you from having a full love life! Now you can search through the thousands of disabled singles we have listed online, waiting to meet other handicapped singles for dating fun.

Disabled Mate
Finally a place for Disabled Singles to meet!
If you have already tried 'disabled dating sites' but you are still having trouble finding disabled singles, Disabled Mate could be the answer. Join the main site or the specialized sites below.
-
Disabled Mate: Amputee
-
Disabled Mate: Aspergers
-
Disabled Mate: Autism
-
Disabled Mate: Bipolar
-
Disabled Mate: Deaf
-
Disabled Mate: Down Syndrome
-
Disabled Mate: OCD
AD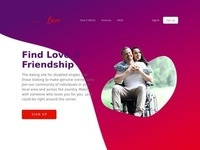 Disabled Love Dates
Find Love And Friendship In The Disabled Community!
Disabled Love Dates is a HIGH quality online dating site for the disabled community with versions that run on all devices, desktop computers, tablets and mobile phones. Feel free to download the Disabled Love Dates dating App from one of the App stores and begin exploring the many options available to help connect with others in the disabled community.

Disabled Mate: Black
A place for Black Disabled Singles to meet!
Enjoy a version of Disabled Mate specifically for Black Disabled Singles. Sign up and meet others today.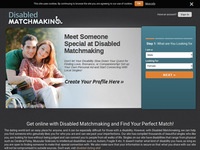 Disabled Matchmaking
Get online with Disabled Matchmaking and Find Your Perfect Match!
Disabled Matchmaking is a site helping handicapped adults meet other physically or mentally challenged singles for dating and mating fun! Don't be alone anymore!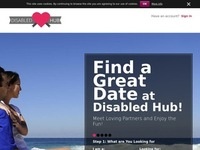 Disabled Hub
Find a Great Date at Disabled Hub! Meet Loving Partners and Enjoy the Fun!
Don't let your disability stop you from meeting people and living life to the fullest! You can do both right here at Disabled Hub when you sign up now!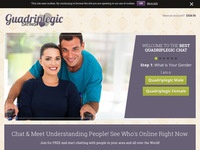 Quadriplegic Dating
Disabled Dating Site Specifically For Quadriplegic Dating
Enjoy chat with others dealing with many of the same issues. Whether for friendship, romance or emotional support, Quadriplegic Dating is here for you.
AD

Disabled Personals Dating
Disabled Personals Dating Brings Joy Back to Your Love Life
Created to foster friendship, companionship and connection amongst disabled singles in search of that special someone.

UK Disabled Mate
Where UK Disabled Singles Meet
People are people and no one is perfect, period! UK Disabled Mate is for UK singles who are either dealing with some type of disability or for UK singles who couldn't care less about whether or not someone has a disability. Love is love and the members of this site understand that life doesn't always deal everyone a fair hand, but that doesn't have anything to do with finding and falling love. If you are a disabled UK single or you are open to or interested in a relationship with a disabled UK single, then UK Disabled Mate is likely to be a great site for you. Join for free and see what you think of the members on the site and the features available.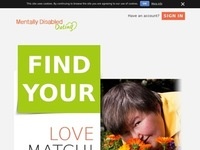 Mentally Disabled Dating
Dating for mentally disabled people can become real
If you are mentally disabled and looking for a date, sign up now and come meet hundreds of singles that are just like you looking for love and romance! Register for free today!

Mental Illness Dating
"Stigma Free Dating"
Mental Illness Dating has strived to make sure that finding the right partner is easy, fast, and done most respectfully. Having anxiety, being bipolar, or having a physical disability doesn't define our members; it's their heart that makes them amazing human beings.
No Longer Lonely
"Online Dating & Support For Adults With Mental Illness"
"A welcoming community that understands the trials and pitfalls of managing a mental illness. Find friends or seek romantic relationships knowing that everyone on this site has some form of mental illness."
AD
Outsiders
"Peer Support and Dating for Disabled People"
"Outsiders is a social, peer support and dating club, run by and for socially and physically disabled people. Our members have a wide range of impairments, including visual and hearing impairment."
Handicap Love
"German dating site for the disabled."
Handicap-Love - Der Seite für Menschen mit Behinderung!
Disabled Dating Club
Disabled Singles Are Looking For Love And Relationships Near You!
Disabled Dating Club was created to focus on finding love when living with a disability. There are thousands of dating websites out there, yet very few focus on the disabled singles audience.
Fireweed Collective
Mental health education and mutual aid through a Healing Justice lens
Support Groups: Supporting the emotional wellness of all people and centered on the needs of those most marginalized by society.
Care Flash
Care Flash is an invitation only social network for individuals to share information regarding their health condition, or that of a loved one.
*Sites listed on this page are a combination of ads, affiliate related Sites and general non-partnership related sites that match the theme of Disabled Passions.